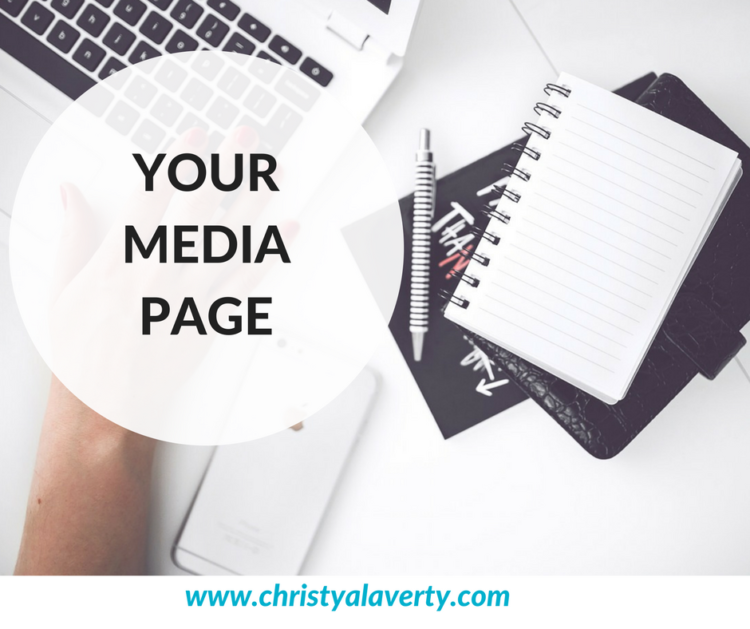 So, let's start out with my philosophy on media pages.
I believe EVERY ENTREPRENEUR needs a media page!
Ok, I hear you from behind your computer screen.
"A media page? Wait, I don't have any media to put on a media page!"
Well, let me tell you something about media pages. They are not just a place to post your previous media, they are so much more than that!
Your Media Page
A media page lets the media know you are media friendly and open to being a source.
It gives you more credibility and wow factor to current and potential customers and clients.
It allows you to share your bio, special milestones, and announcements.
It allows you to create content that you can share on your social media channels
It creates another point of contact to build your know, like, and trust factor
It allows you to feature your previous media mentions, press, and publicity
So, still thinking you don't need a media page?
Creating a media page on your website doesn't need to be complicated. There are a few things I feel are a must for any media page.
What To Include On Your Media Page
Your bio

This is not about selling
This is not your about me page
This bio is shorter than your about me page bio and more to the point
Try to think about the questions a journalist might have and try to answer those
Be clear, concise and to the point
Your Contact Info

This should be front and center and at the top of your page
Journalists don't want to have to scroll for this key information so, make sure it is at the top of your page.
Make sure you leave your name, or the name of the media contact, your email, and phone number
Some journalists will want to phone rather than email so make sure there is a number that you can be reached
When it comes to email, don't leave a contact form. Journalists want to reach you directly don't send them to a contact form
Previous Media

Create a gallery of your previous media

tv
radio
magazine
newspaper
podcasts
guest posts
website

Think about media in a non-traditional way. Be sure to include digital media, like Facebook Live Videos and YouTube videos
Try to pick the best or newest media to feature on your page
Try not to create a list that a journalist will have to scroll through for a long time – grab screenshots of magazine articles, thumbnails from videos and screenshots of podcast covers. You want to make it as visually appealing as possible
Talking Points

Include a list of topics you can speak about if the media comes calling
Think outside the business box here. Include any and all topics you can think of that fall into your wheelhouse of expertise. Think about lessons and failures of your journey to become an entrepreneur.
These topics will help a journalist see you as a source on as many topics as possible.
You get to show off your expertise
Photos and Logos

You can always include high resolution, downloadable (watermarked) photos of your products
You might also want to include photos of your team, including you as the owner
Include image files of your logo that are downloadable
News Releases

This is a great place to post all those moments and milestones in your business
Create news releases for yourself announcing new projects, new partnerships and community work
These news releases become shareable on all your social media handles
I created this simple to follow downloadable checklist for you to follow when you are creating or updating your own media page. Click on the image to get your download of the checklist or click  on the link MEDIA PAGE CHECKLIST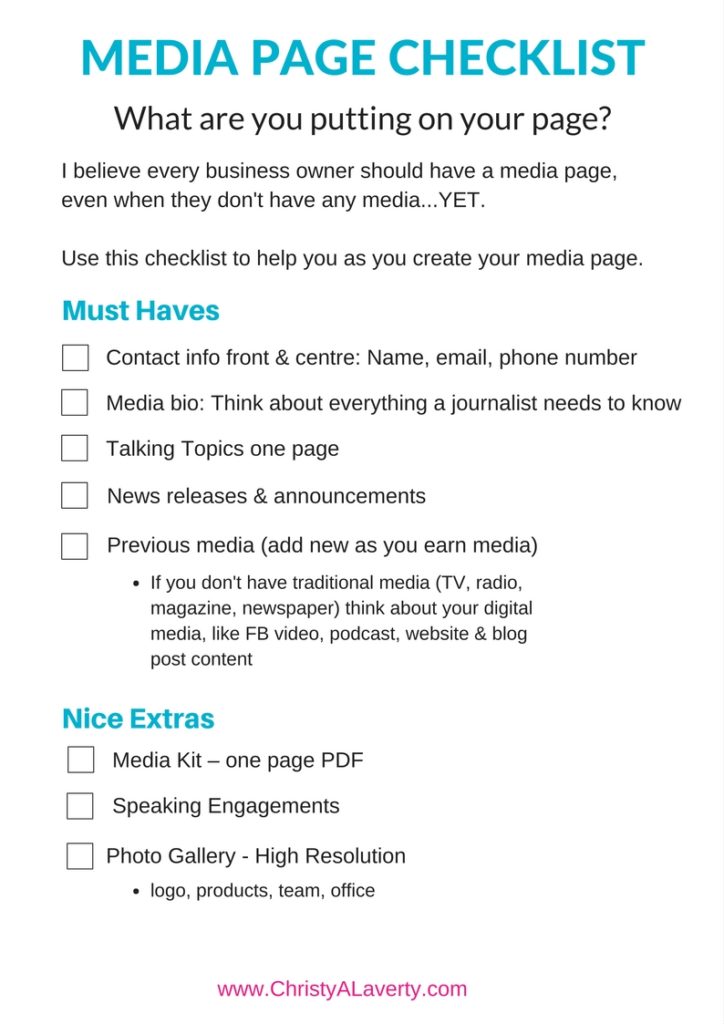 Want some more help with your media page?
Swing on over to the Media PR Collective For Entrepreneurs Facebook group for more tips, tools, and advice!
You can also book an hour-long one-on-one call with me. Check out my Media Brainstorming Session