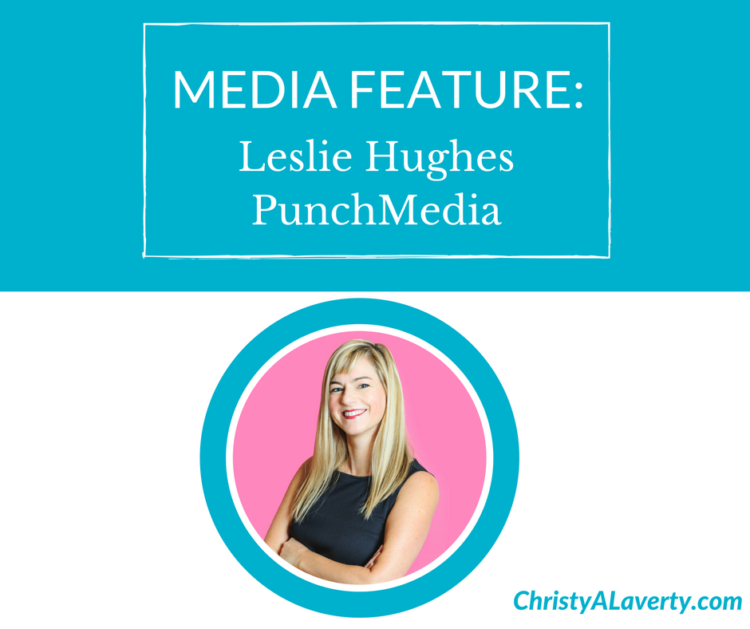 I am a firm believer in learning from the experiences of others. It is in that spirit that I start the media feature. We kick things off with Leslie Hughes, founder/owner of Punch Media.  She is a LinkedIn Optimization Specialist and Social Media Corporate Trainer. She has been featured on CTV's The Social (clip of recent feature at end of  post) and CBC. Leslie is sharing some of her media and PR experience with us.
Tell us a bit about you and your business
Leslie: I'm a LinkedIn Specialist, a Professor of Social Media and the Principal of PUNCH!media. I began working in digital media in 1997 and worked with brands such as Weddingbells Magazine, Visa Canada, and Prozac before starting my own company, PUNCH!media in 2009. At PUNCH!media, I was fortunate to start my business by developing Social Media strategies for TVO and The Children's Wish Foundation. I have been a part-time professor at Durham College and corporate trainer for the Social Media Marketing Certificate at The University of Ontario Institute of Technology and have narrowed my niche as a champion of LinkedIn because I believe it's the most powerful out of all the Social Media networking sites.
My goal is to empower professionals and businesses so they feel proud of their online presence. I help them to create a strong presence, connect with their target audience and convert higher paying clients.
What made you start your own business?
Leslie: I wanted to stay at home with my son, but was anxious to use my business brain so I started up an event company called Diaper Disco where I turned a nightclub into a daytime disco for kids under the age of 12. I missed going "clubbing" with my friends and thought this would be a fun way to make money.
Through joint venture promotional partners – Once Upon A Child in Ajax, and using Social Media, I was able to get 350 people out to the events. And this was in 2008!
I didn't like the anxiety of event planning, so I heard about the Ontario Self Employment Benefit Program and I thought I could start up my own business helping small businesses get editorial coverage. I had worked at Weddingbells Magazine and Fashion Magazine and knew that small businesses struggled with getting editorial coverage. I soon learned that my experience and enthusiasm for Social Media was a natural fit!
Tell us about your media experience…where have you been featured?
Leslie: I'm really pleased to have been featured on CTV's "The Social", 680News, DeutcheWelle (Germany's National News), CIUT and was also called a "Social Media Guru" by CBC Radio.
How did it come about? Did you pitch or did the media get in touch with you?
Leslie: For CBC, they reached out to me. I had met one of the producers at an event. DeutcheWelle also reached out to me. The amazing Christy Laverty helped me reach out to 680News. I pitched CTV's "The Social" by reaching out to one of the producers.
What was your biggest challenge when it came to reaching out for media attention?
Leslie: I knew from working at Weddingbells Magazine that editors are often eager to have new ideas sent to them (as long as it works with their target audience).
The biggest challenge was coming up with a good hook that was interesting enough for The Social. Once they said "YES", the anxiety kicked in that I was actually going to have to go through with it!
My challenge now is, how to come up with new ideas for new pitches!
Why do you think media attention/press is important for you and your business?
Leslie: It's great "social proof". Having the credibility of the press is amazing bragging rights. It's also important for me to push myself outside of my comfort zone so I help grow both myself and my business.
What is next in your media and PR plan?
Leslie: Good question! I'm in the final stages of launching a book, so I'm hoping this will be another way to get in front of the camera and position me as an expert.
What is next for your business?
Leslie: The launch of the book is #1. I also plan to launch an online training program to help people create a compelling and fascinating LinkedIn Summary and then hopefully both of these initiatives will help me with booking more keynotes and conferences!
What advice would you have for other entrepreneurs who want to get press but are afraid to reach out?
Leslie: Get out of your own way. I struggle with this ALL. THE. TIME. I'll question: "Why would anyone listen to me?"
Then I realize we all feel like this. No one wants to come across like they are bragging or full of themselves. We hold ourselves back for fear of rejection and criticism. This is why I started my book in the first place!
The best way to re-frame these thoughts:
#1) Everyone feels the same fears about being in the spotlight. Even Barbra Streisand has stage fright!
#2) You are an EXPERT. No one knows what YOU know from YOUR perspective. I give you full permission to rock your expertise.
#3) Read "The Man In The Arena" quote by Theodore Roosevelt. If people aren't IN the arena, with blood, sweat, and tears, then they don't have a voice to criticize.
#4) The best person to market you is YOU. Get comfortable being uncomfortable. I'm sure you'll find once you've done it, and you've conquered your fear…you'll be ready to go again!
Anything else you want to add? About your business or your media plan/strategy?
Leslie: Videos. Do them. I find it's challenging to find the right lighting and makeup and I know it takes time to edit, but the sooner you get out of your own way to share your expertise, the more traction you will get.
Website:
Check out Leslie Hughes chatting with the ladies on CTV's The Social