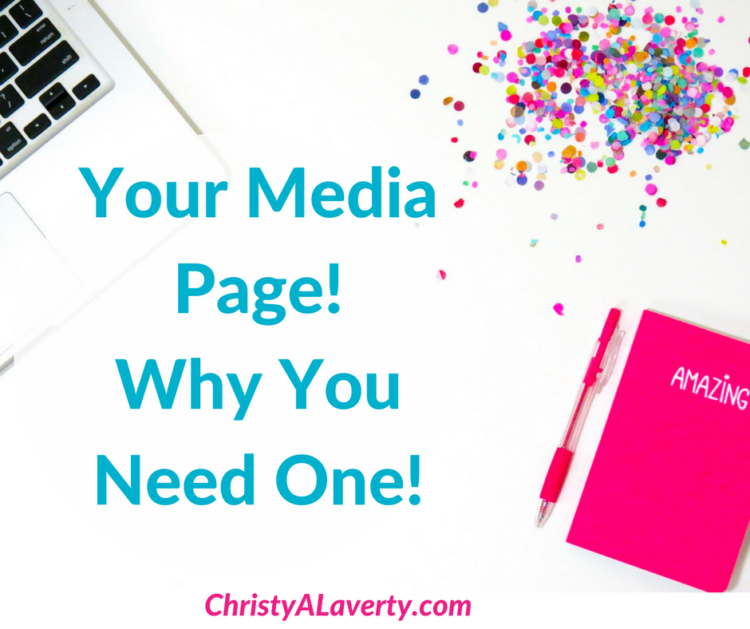 Do you have a media or press page? Don't think you need one? I am going to share just three reasons why I think you MUST have a media/press/news page!  First, before we get to the reasons you MUST have a media page, let's go over the reasons you may be thinking you don't need one.
Your Reasons For Not Having A Media Page
I have nothing to say
Really? This is absolutely not true. We all have something to say about what it is like to run a business, to serve customers and clients, and about the news of the day…just to name a few! A media or press page is a great place to share announcements about you and your business! You can create news releases that you post only to your media/press page telling your community about your good works, like any charitable work, any charities you are supporting or working with, about any news you want to share about your business, maybe you are celebrating an anniversary or a milestone. Everything you post to your press/media page is searchable!
I don't have any media to share
Maybe this is true for right now but not for long! I challenge you here to think outside the box when it comes to media. Media doesn't just mean TV! Have you contributed a post to someone else's blog or podcast? Or maybe you were a guest on a Facebook LIVE? That is all media.
My company is too small (solo-entrepreneur) to have a media/press page
No company is too small. No entrepreneur is too small! Everyone has expertise worth sharing. This is all about mindset and you need to change that way of thinking. Having a press or media page is about getting more visible so more people, including journalists/the media, can find you!
Top 3 Reasons You NEED A Media Page
1. Let The Media Know You Are Available
It is important to remember MEDIA = MARKETING. So with that in mind how will you help the media find you without a media/press page? Journalists are not your customers so they don't look at your website the same way so you need to have a place for them to go with all the important information they need. Your press/media page will have your contact information, and not just a contact form but your email and phone number, announcements, news releases, and talking topics.
Here is an example of the importance of putting your contact information front and centre on your media/press page
https://www.canadianmomeh.com/canadianmomeh-in-the-news/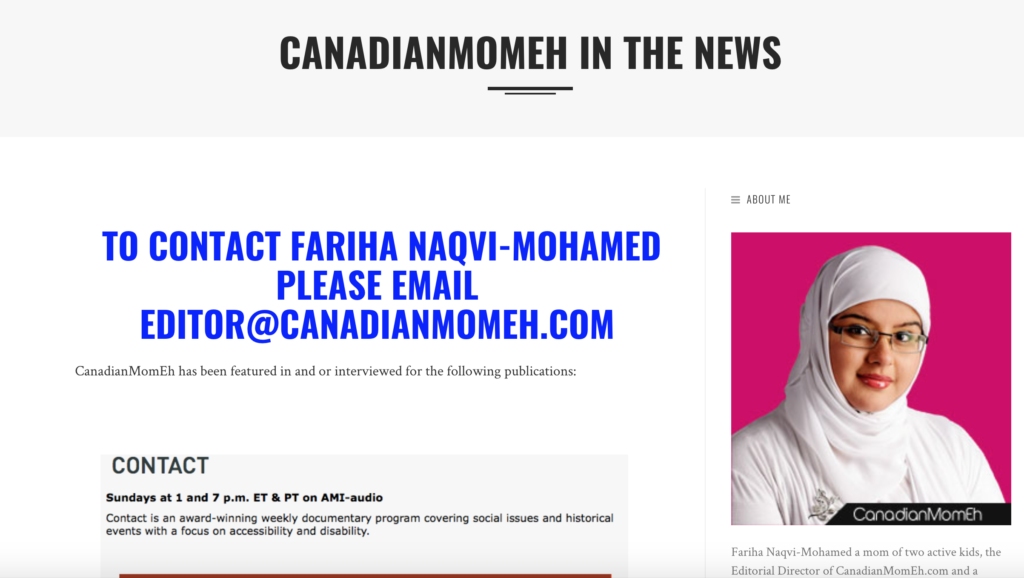 2. Show Off Your Biz Stuff
Your media page is a great place to share all the news, announcements, awards, milestones, and events that you have to share with the world. You can share these details in a news release style format that is professional and official. The best part of that is these announcements can live on your press/media page and then become searchable and shareable! They are no-nonsense releases that allow you to share the things that you are doing inside your business.
Here is one example of a company using the media page to showcase important details about the company
https://www.7shifts.com/media-kit/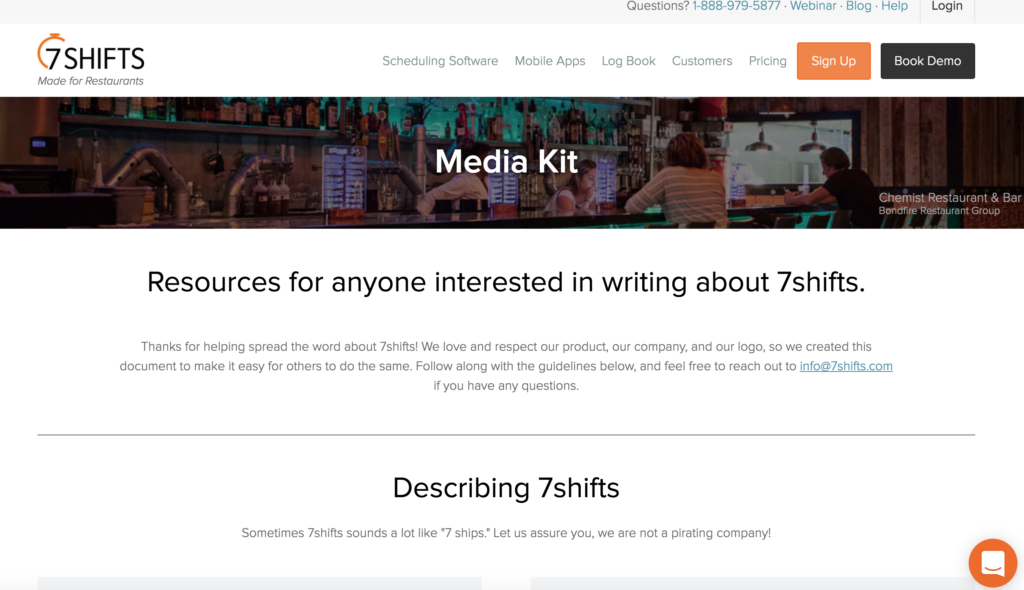 3. Show Off Your Media Appearances
Alright, you might be thinking to yourself, I don't have any media mentions or appearances to post on a media page. And I say…Not Yet! A media page isn't just for posting media appearances. This page is your news and media hub. It is where you post announcements, awards and the like. It is where you are going to direct the media. It is where the media will likely head to find out more about you and how to connect with you. Your media/press page isn't about sales or your customers it is about answering all the questions a journalist might ask.
Here is one example of a great of a press page that is showcasing previous media appearances Lydia Di Francesco, personal trainer, and owner of Fit & Healthy 365 shows off her stuff on her media page
   http://www.fithealthy365.com/media/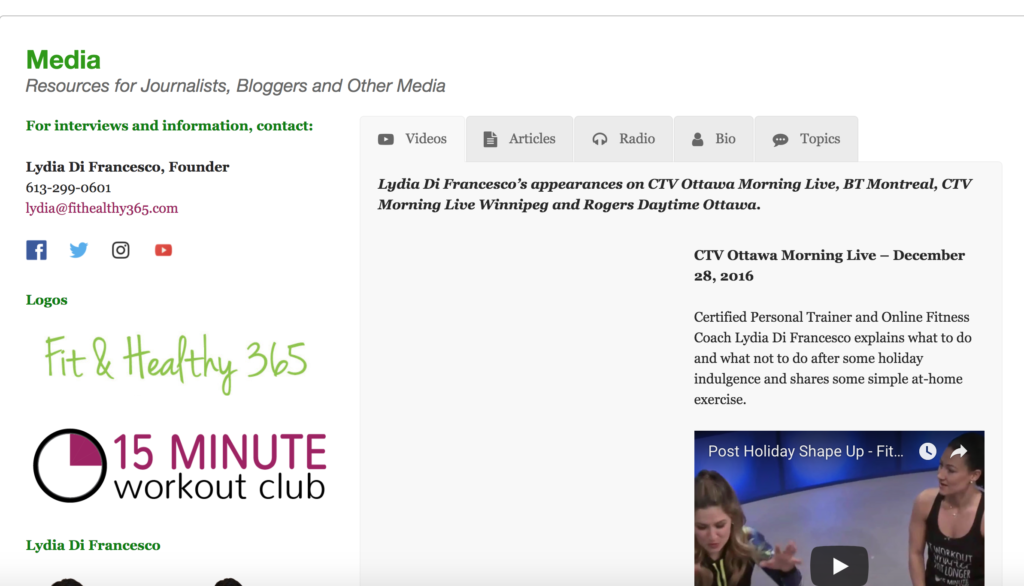 BONUS
Show Off Your Expertise
Your media/press page also allows you to create a one-page document or PDF that includes all the topics you can speak about. This simple tool will help a journalist see what you can speak about and what they might want to interview you about. It is your opportunity to showcase your expertise. Think outside the box here and don't just limit yourself to how you serve and help your customers. Think about all the areas of your business and personal life that might apply, like your journey as an entrepreneur, what you have learned from your failures, your why, and how you juggle family and business.
Want a little help figuring what you need to include in your media/press page? I am running a virtual workshop coming up on Friday, October 27 from 10 am to 1:30 pm Eastern. Can't make it live? Everyone who buys a ticket will get a recording!
MEDIA 101 – Oct. 27 10 am – 1:30 pm est.
Here is what we will cover in the MEDIA 101 WORKSHOP OCTOBER 27….
Topics
Why do you need media for your business?
Why D-I-Y your media plan?
What is your media mindset?
Is your website media ready? (Owned Media)

Your Blog – owned media
Media page – owned media

media bio
Talking Topics one page
News releases & announcements
Previous media
Low hanging Media fruit (Earned Media)
I am also running a pitch virtual workshop coming up in November. Pitch Perfect will help you master your email pitch so you get a yes! It runs November 17th, from 10 am until 1:30 pm
Pitch Perfect Virtual Workshop – November 17, 10 am – 1:30 pm est
http://bit.ly/PitchPerfectVirtualWorkshop
Topics
Generating Pitch Ideas
Your hook
Where to look for a solid hook
Editorial Calendar
Who To Pitch
Crafting Your Email Pitch
What to include and what to leave out
An easy to use template
The Press Release
Why you shouldn't use it as a pitch tool
What to use a press release for
This mini-training will leave you with tools, techniques, and strategies to help you get press success with your next media pitch.
Need more help? Check out my work with me page to find out ways we can work together