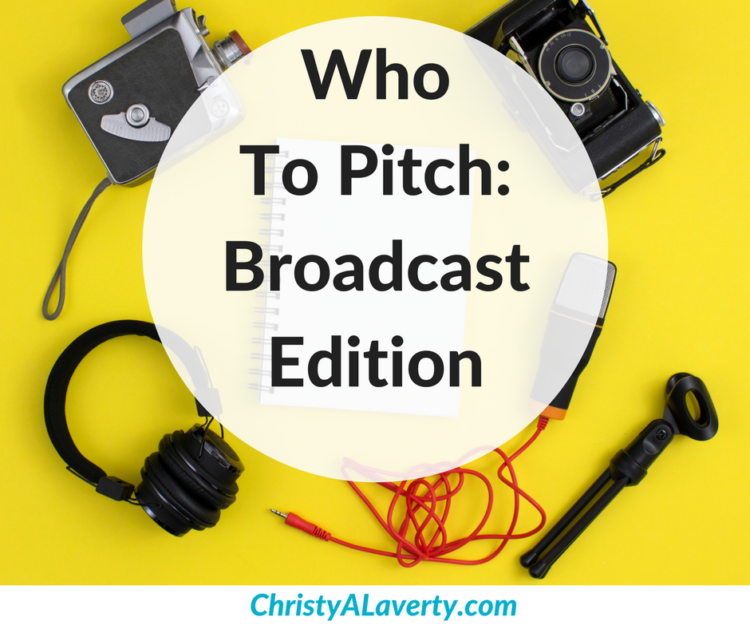 There is no question figuring out how the media works and who to send your story idea or story pitch to can be confusing, especially if you are new to media and PR or never been to a newsroom before. It can feel like a secret world that few ever get to see.
I have worked in a newsroom, a few to be exact. In this series, WHO TO PITCH, I am going to go over what I know about how newsrooms work and who best to pitch to help you find press success and media mentions.
In this edition, we are going to talk about broadcasting, television and radio newsrooms
Who Do I Pitch?

BROADCAST
If you are pitching a larger major market television station and your story is breaking news or something timely, you could start with the assignments editor/assignment desk is a great place to start. It is the central spot in a newsroom for all stories, shoots, and producer/reporter requests. Take some time to do a bit of research to find out the names of the assignment editor/editors so you have a solid point of contact. I would also suggest reaching out to the show producer also. Producers are the show decision makers and it will ultimately be their call to cover a story or not.  When it comes to the major news of the day major stations or networks will have dinner hour (newscasts between 5 and 6 pm) and/or evening/late night newscasts (newscasts between 10 and 11:30 pm). Start with those in your news market, like in Canada CTV, Global, CityTv, and CBC, and in the United States,  CBS, NBC, ABC, and Fox.
If your story is a human interest story, identify who specifically covers those stories by watching the news several nights in a row or looking at archived segments online. If it is the same reporter each time, pitch that reporter. It if is not the same reporter, or beat reporter as they are known,  find out who the producer is for that show or, if it is a regular segment on the show, look for the segment producer and send your pitch to them.
If you are not sure who to send the pitch to look for an online staff directory or pitching tips on their "contact us" page.
Pick up the phone! This maybe be old school but sometimes it is the most efficient way to the information you need. Don't be afraid to call the station and ask questions about who to pitch and how their decision process works. Who is the best person to pitch for breaking news? What kind of stories are they looking for? When is there production meeting? When is the best time to pitch for the morning news show? Evening news?  Morning shows? Weekends? Do they have a staff directory or tips sheet that might be helpful? The more you understand about how they operate and who handles what, the more effective, and successful, you will be.
If you are looking to land a segment on a morning show television then you need to look for the producer of the show. Pitch the show producer, not the news desk, anchor or assignment editor. Same thing with hosted shows like The Social, Cityline, Dr. Oz, and the like. Don't pitch Tracy Moore, the host of Cityline, pitch the show producer.
When it comes to news radio, there are a couple of ways you could go. If it is an all-news radio station, like 680News in Toronto or 1010Wins in New York, pitch the show editor or producer. Smaller radios stations might only have one producer or have a host who produces their own show, whereas larger radio stations will have many producers, each show could have it's, own producer.  When in doubt, pick up the phone!
Consume the news! This is so important so you know who reports /covers human interest stories, controversial or investigative stories, individual communities and more. This step will keep you informed, it will let you know when you should be jumping on a story, how to pitch and who to pitch.
Social media can be a big help when it comes to figuring out who to connect with when it comes to story pitches. Twitter will help you do the research needed to figure out what to pitch and who to pitch.
Twitter will help you do the research needed to figure out what to pitch and who to pitch.
Start following media outlets
Start following journalists

reporters
writers
anchors & hosts
producers
segment producers
assignment editors

Make lists of all these great media contacts you are following
Share some of your own great content
Share/retweet some of the great content journalists are sharing
Reach out and make contact with key media players you might want to pitch
LinkedIn is also a great platform to do some research. It is a professional platform and that means journalists will list their professional credentials in their profiles. Use the information wisely.
Make connections
Don't stalk
Do offer information and value
One key thing to remember most journalists still prefer to be pitched via email rather than be pitched via social media. Do your research on social, make connections on social but pitch via email!